Wearable Digital Signage
SaaS, dynamic display and advertising platform.
Rotating slideshows of custom content.
If you can't beat the screen, use it to connect.

Wearable Digital Signage.
A dynamic display and SaaS platform.
Rotating slideshows of custom content.
Engages attention
Informs customers
Invites conversation
Deepens employee/customer relationship
Communicates to multiple people at once
Empowers employee
Strengthens brand
Drives revenue
Combine content about your employees, (where from, hobbies, affinities, passions) with corporate promotional content. This creates a deeper connection, and employees feel valued.


Create content on SaaS Platform
Publish slideshows to multiple locations
Employees wear and share rotating slideshows of content
BEAM is a game-changer for consumer facing companies:
Retail, Food & Beverage, Hospitality, Travel, Banking, Entertainment, Trade Shows & Events, Delivery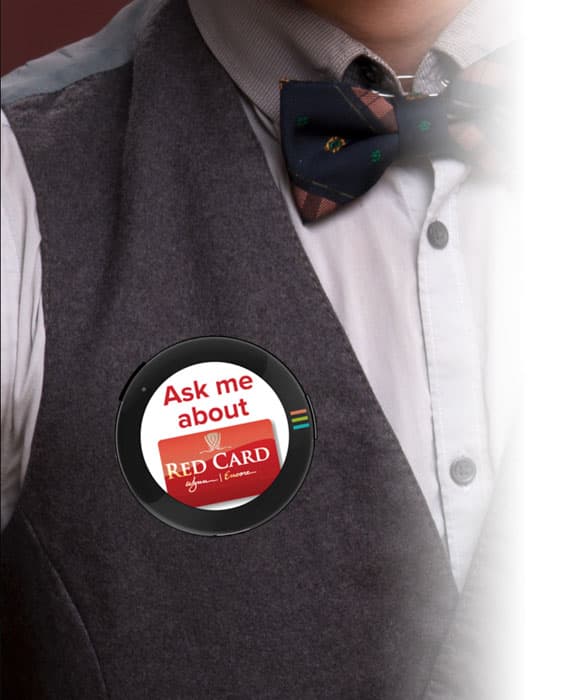 BEAM CAN BE A POWERFUL ADVERTISING PLATFORM
New ad real estate: "the employee"
Employees wearing ads deliver personal touch & impact.
Ad sales generate revenue & third parties that want presence in your business can subsidize BEAM cost.

BEAM PLATFORM IMPACT
Customer
Better Experience
Ice Breaker
Engaging
Connection
Discovery / Actionable
New products & services
Sales & promotions
Employee
Feeling More Valued
Their personal content
Sense of pride
Empowering
Better Experience
Invites engagement
Deeper customer relationships
Communicates for you
"Cool" factor
Company
Brand Lift
Improved customer experience
Employee morale
Tech-forward leader
Can Drive Revenue
Launches
Promotions
Complements Marketing
Additional Ad Revenue
"Our employees love wearing the BEAMs because it makes them feel more special with their own content and it invites customers into conversation as an ice breaker. Customers found them to be extremely informative, great for the brand.""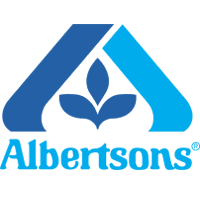 Chad Cummings
Director E-Commerce, NorCal Division
Safeway/Albertsons
"We are launching Beam at Enjoy to help magically facilitate conversation and trust in our visits. BEAM fosters personal connections and has been a conversation starter in many of our visits. The ability to program the device is also of great value to Enjoy and to our partners. We have made BEAM a standard part of our Employee's uniform as we dress to perform.""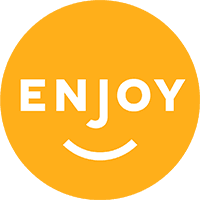 Ron Johnson
Founder & CEO
Enjoy
"We pilot tested BEAM in 4 restaurants. Impact was experienced by both employees and customers. It is an absolute ice breaker, conversation starter, and informative. We have now rolled BEAM out to 16 restaurants.""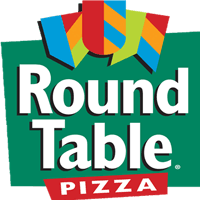 Ali Karachi
President
California Round Table Pizza Group
"We introduced BEAMs at the HEAT during our 2017-18 season. It was an excellent way to draw attention to our promotions, display fun graphics, get fans excited about the game, and create meaningful 1-to-1 interactions. We were regularly approached by fans who wanted more information about the promotions on the BEAM. These BEAMs don't go unnoticed!""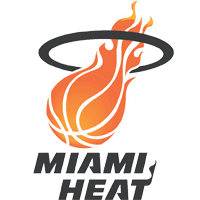 Derek Rhodes
Manager, Mobile Innovation Information Technology
MIAMI HEAT
Consumers:
Download the Free App
& Start Creating
The BEAM App
Have fun and be creative with GIFs, Slideshows, & Beams.

Create your Own
Use photos, pull from the web, design single Beams and slideshows instantly. Wear and share GIFs from your phone and from GIPHY.

Find & Discover
Browse Beams in the newsfeed and other Beamers' libraries, or search specific areas of interest.

Support & Donate
Raise awareness, stimulate conversation, learn about causes, donate and take action.

Follow & Subscribe
Enjoy receiving Beams from the bands, celebrities, schools, causes, teams, and friends you follow.

BEAM STREAM
Receive content directly on your BEAM from your favorite teams, orgs and friends.

Start a Conversation
Beam to your device, share to social media and to friends by text. Share what you care about and engage others.
1. Magnet Set
2. Handbag Strap
1. Pin Case
Tech Specs
Light, Smart and Sleek.
Highest Quality Display
Tons of pixels (400x400), millions of colors (24 bit) and a vibrant AMOLED screen.
Fast Wireless
Send Beams quickly to your BEAM with the latest Bluetooth technology.
Long Battery Life
Up to 24 hours per charge. Power saving features enable auto-dim & auto-sleep.
Accessories
Wear BEAM your way, with the convenient magnet set, handbag and backpack strap, secure pin, and fashionable skins.
Large Capacity
GIFs, slideshows, keep 100 Beams on your BEAM.
Smart Sensors
Ambient light sensor for best image day or night. Accelerometer extends battery life.
Panic Button
Instant Connect.

Press Function Button
Hold for 10 seconds to send panic text message
and maplink & GPS location from phone. *
Use for safety and convenience:
Walking across campus alone at night.
Leaving the office on your way home.
Driving without texting.
Up to 4 recipients can receive your message.
* Setup message and add recipients in the app.
Start BEAMING
Companies, conferences, sales team, retail settings, and brands - use our SaaS Platform. Consumers - enjoy our free app and start creating Beams today. Perfect gift for all occasions.
#BEAMAuthentic